About Us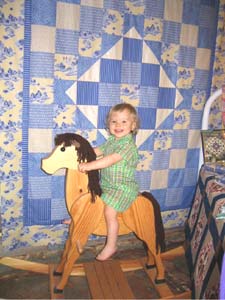 Quilt Mercantile exists because Vickey Dees loves quilts! Vickey has been a quilter since the early 1990's. Before that, she spent years dabbling in various craft hobbies while raising a family of four children. She worked in the banking industry and personnel for a couple of companies through the years. During this time she found a wonderfully fulfilling hobby—making quilts! She began to dream of owning a quilt store of her own. She wanted to be able to stock fabric to fit her tastes and share her passion with others.
Her daughter, Jennifer Tenney, began raising her family in 2000 on the family homestead. With more time spent together, the two soon began planning and dreaming of a store they could run together. Vickey thought it would be fun to have a small store. She would piece the day away and stop to sell some fabric every once in a while. Jennifer, who graduated from Texas A&M University with a BBA in marketing, would take care of the advertising and accounting details. It only took a year to grow beyond their expectations.
In the summer of 2002, the building was purchased and a journey to create a quilter's haven began. The craft mall in downtown Celeste came up for sale and the timing was right. As the pictures show, this building turned out to be perfect for this endeavor. From the outside you see a quaint storefront with large windows beckoning you inside to explore. Once inside, your senses are all but overwhelmed by what you see. Many times "Wow!" is heard from a first time visitor as they enter the doors of the early 1900's building. With a twenty-foot high ceiling and over 5,400 square feet filled with a seemingly endless supply of colorful cotton fabric, they aim to inspire quilters to browse, shop, chat, and create. "We love fabric! We stock our shelves with top quality 100% cotton fabric. We also have Elna sewing machines, Sylvia Design sewing cabinets, books, patterns, notions, and gift items."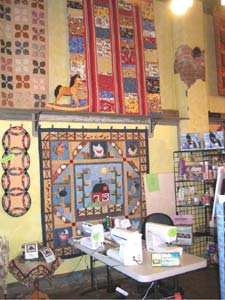 "Our business philosophy is the same basic Christian principal which we live by daily—treat others the way that you would want to be treated. It seems simple and it is simple. Our main goal is to live Christian lives as detailed in the Bible. Our desire to be friendly and helpful really has nothing to do with our love of fabric. To explore the foundation for our lives, please visit www.biblecourses.com/bcbook.asp."
Taking care of customers is top priority at this store. Since Jennifer worked almost ten years for Carl Sewell, author of the book "Customers for Life" , she brought several ideas and concepts into the quilt store. "We do things a bit different at our store and we are proud of it. We want you to know we are here to help if you need it and we mean it. We strive to be your favorite quilt store!"
Quilt Mercantile is located in a small East Texas rural community. Celeste was established from open prairie in 1887 when the Santa Fe Railroad announced it would cross the M.K. & T Railroad at that location. Cotton was king in those days and the community quickly grew because of the railroads. The downtown area was built soon after the town was established in the early 1900's. Rumor has it that the building was originally a Model T dealership. That could be why they are blessed to have a wonderful pressed tin ceiling in part of the store. The acid stained concrete floors and rusty tin on the ceiling complement the building. They used old barn wood to make shelves and painted the original plastered walls in two tones to complement the unique charm of this historic building. The town has survived through a century with many changes but always full of hard working citizens that love their country. The most famous citizen is Audie Murphy, the most decorated soldier in World War II. They have been told he was known to pull pranks from the top of the tin roof with his friends as a youth.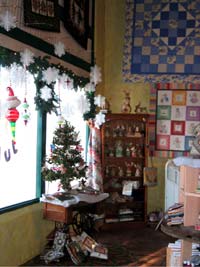 This location was chosen because it is close to where they live and has plenty of room for the business to grow at a very reasonable price. This helps them pass the savings on to you. There is an excellent Mama Murriel's Doll Museum, a world famous confection factory (Mary of Puddin Hill), and the Audie Murphy/American Cotton Museum all within twenty minutes of the store. Ten minutes East of them is Webb Hill Country Club which is a 230 acre golf course with beautifully wooded rolling hills. Many a husband has been known to wander through the two saddle shops also located in the downtown area. These saddles are custom made to fit which is hard to find in this day and age. They have ample parking and no traffic jams!
"We are involved in our local community in several ways. In the summer of 2008, we joined with the First Bank of Celeste to replace a large section of the sidewalk along the south side of downtown. It has improved city drainage and the overall appearance of the area. We have given products to be auctioned to raise money for the local FFA program. We have opened our classroom space for the local Coffee Club meetings. We are members of the Cotton Patch Quilt Guild located in nearby Greenville. Through this group, we sew and machine quilt projects that are given to the area Women in Need organization."
"We appreciate your visit to our website. We hope you find it easy to use and always full of wonderful fabrics and projects you would like to make. If you are ever passing through the Dallas metroplex, you will find that we make it worth the drive to come visit our traditional quilt store. We have three generations present in our family owned business and we plan to stay around while the next generation grows up at the store and on the family farm."